4 Stars
Landhaus Sponsel-Regus
Spa hotel in
Heiligenstadt

>

Franken

> Bavaria > Germany
Welcome to the 4 * Wellness Hotel Sponsel-Regus - the Leading Spa Resort in Franconia!
Impressions
Videos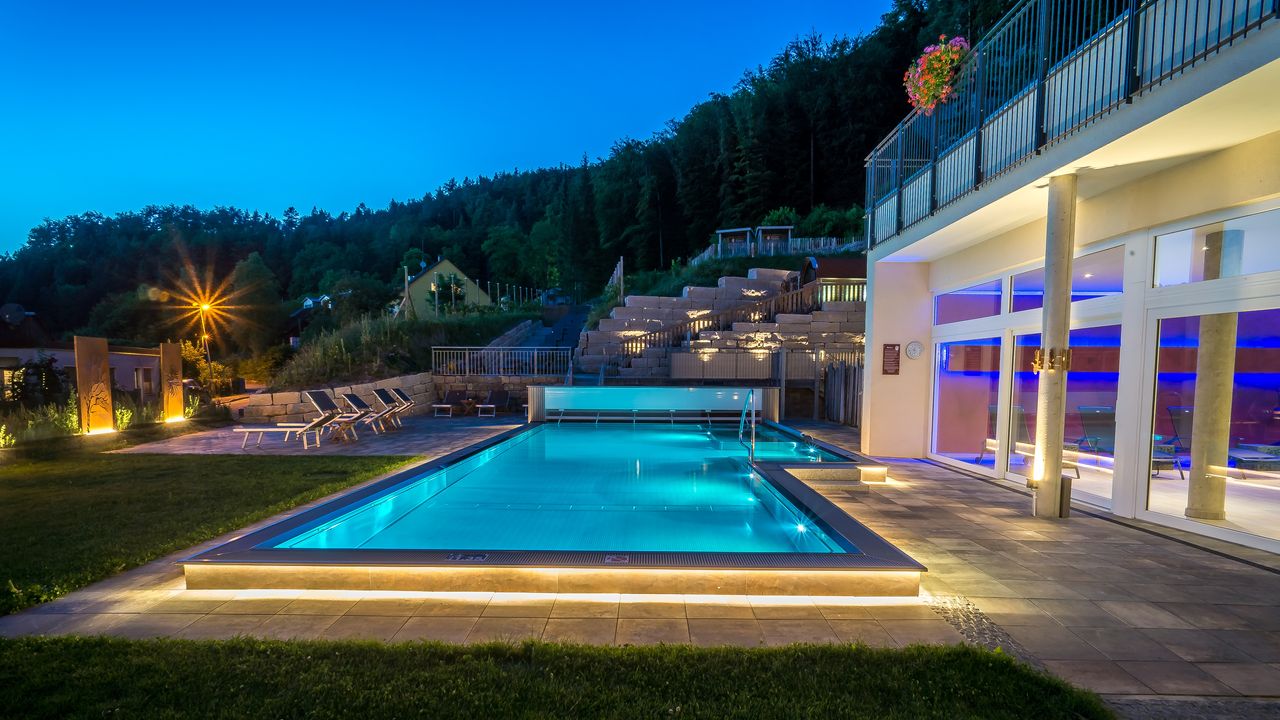 By accessing the video, you agree to allow YouTube to create cookies on your device. You can read the privacy policy from YouTube here:
policies.google.com/privacy?hl=en
Details More about the Landhaus Sponsel-Regus
The unique pleasure region of Upper Franconia and the Franconian Switzerland adventure region are right on the doorstep of your holiday destination Veilbronn. Idyllically located at the foot of a nature reserve, you can start your hike or bike tour directly from the hotel. You are already in the largest density of breweries in the world, through rolling valleys with picturesque landscapes and rugged rock formations.

The Sponsel-Regus is surrounded by the world cultural heritage cities of Bamberg, Bayreuth and Nuremberg. Unique sights such as Seehof Castle, the Sanspareil Rock Garden, the Gößweinstein pilgrimage site and the castles and palaces of Franconian Switzerland await you.

After your tour through Franconia, a 2,500 m² wellness area awaits you. This is divided into the "Schlössla" relaxation area and the "Mattstein" family area. In total, you have an infinity outdoor pool (32 ° C), two indoor pools, herbal sauna (60 ° C), panoramic outdoor sauna (90 ° C), aroma steam bath, two infrared heat cabins, and barrel sauna "Hop & Malt "(75 ° C) and various retreats are available. In addition to the over 1,000 m² sunbathing meadow and the 600 m² roof terrace, this also includes the panoramic relaxation room with a view of the rock formations opposite.

In addition to the vital breakfast buffet in the morning, you are well looked after during your wellness holiday in Franconia. As part of your arrangement, the 5-course gourmet menu in the evening is already included. Every day we offer you a wide selection of our salad and starter buffet. There are three main courses to choose from every day - of course with a vegetarian option.

You should also notice that you are spending your vacation in the "Upper Franconia region of pleasure": That is why we use many regional products to bring our beautiful homeland closer to you. This includes the in-house beer menu with 17 Franconian beers, the extensive selection of spirits and a well-stocked menu of Franconian wines.


We look forward to making your vacation something special!

Your Regus family and the Sponsel-Regus team